In the African country projects for the prevention of blindness are in progress, from ophthalmological screenings to cataract surgery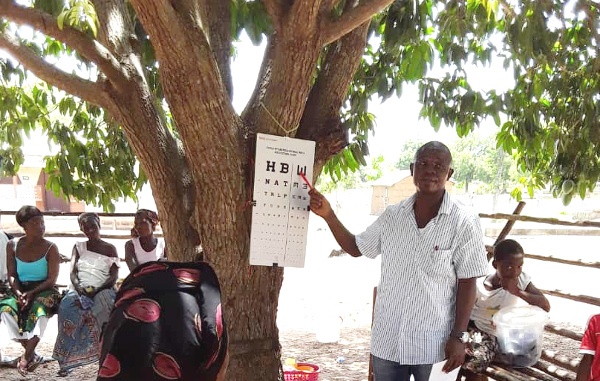 There is a region in the north of the African State of Togo (Bassar area) where sight disorders are particularly widespread.
Precisely for this reason a mass screening was organized: the last stage took place from Monday 6 May to Friday 10 May 2019 by the association "Fon.T.Es-So.T.Es-Togo".
This mass screening entails the carrying out a total of approximately 3,000 eye examinations on people suffering from eye diseases. At the time of writing, about 1,500 examinations have been performed and 500 pairs of glasses have been donated. Furthermore, out of about 120 surgical procedures have been scheduled.
The International Agency for the Prevention of Blindness-IAPB Italy firmly believes in this project and actively supports it with a contribution.
These illnesses could easily be avoided by adopting simple preventive measures, but only less than a quarter of the rural population can be treated. The causes are varied and can mainly be linked to the lack of facilities and resources: the excessive cost of actually travelling to clinics and hospitals, unusable roads, the lack of ophthalmic centres, fear or distrust and the lack of information.
To compensate for these difficulties the association "Fon.T.Es-So.T.Es-Togo" has organized a mass screening that also includes cataract interventions.
In addition to cataracts, the project aims to prevent trachoma, vitamin A deficiency (xeroftalmia), pterygium and damage caused by glaucoma, in the rural populations.
OTHER INITIATIVES IN TOGO
Since 2015 IAPB Italy has collaborated with the aforementioned association – also supported by the Italian association, Gruppo San Francesco d'Assisi (St. Francesco of Assisi Group) – for the setting up of a medical-social centre, complete with ophthalmology and school integration services, in Lomé (Togo).
WE HELP THE AFRICAN COUNTRY
The boarding school, which houses a hundred pupils (nursery, intermediate and high school), is run entirely by Togolese personnel and offers an education to blind children, almost all of whom are from very poor families, who live in a vast area of the African country.
It is, in fact, the only structure existing in that huge region, designated to blind children who unfortunately, due to the precarious hygiene and health conditions, represent a significant part of the child population. Overall it is a small reality that operates with scarce resources in a context in which the problems relating to blindness are devastating and where the fundamental tools for prophylaxis are lacking.
A PROJECT THAT LOOKS TO THE FUTURE
The IAPB Italy (our non-profit organization) decided to collaborate on the setting up of a medical-social centre connected to the school facility, by firstly providing financial aid and then by contributing to the organization and structuring of the centre itself.
Source: Fon.T.Es-So.T.Es-Togo